Nutrient Packed Ingredients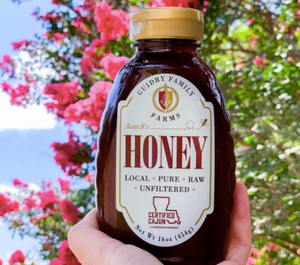 Honey is proven to build immunity, reduce the risk of cancer, lowers cholesterol and is a great healthy sweetener replacement!
See More Benefits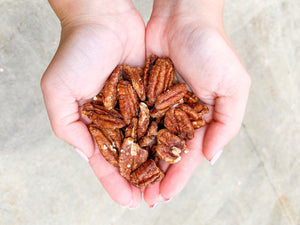 Pecans are natural antioxidants which help contribute to heart health and disease prevention. 
They are also anti-inflammatory and help lower cholesterol! 
See More Benefits
From Our Farm to Table
Check out our blog which features a handful of easy & delicious recipes using our organic products! Be sure to tag us if you recreate any @guidryorganicfarms recipes for a chance to win free products!
Take Me There
What Our Customers Are Saying
Wonderful products grown and transformed by people dedicated to doing it the best and simplest way possible. Special mention to the Guidry Organic Farms' pecan oil, it really tastes like pecan!

Isabelle L.
Besides being staples in our kitchen, these healthy and delicious products also are great gifts!!

Linda M.
LOVE! Family owned and operated right here in Acadiana. Everything they produce is top-notch with family in mind. They produce quality, healthy products that are both delicious and nutritious. Highly recommend making their products a mainstay in your kitchen.

Ben D.
Hi. Just wanted to thank y'all for the free sample of pecan oil sent to me. We have tried it on many dishes at our restaurant and very impressed with the flavor. My mother also sent me honey and pecan butter. The honey is probably the best honey I have tasted!!! Love the pecan butter also!! Y'all keep up what y'all are doing. Thank you again.

Seth R.
I've had the granola, pecan butter, honey, pecan oil, and their fresh eggs, and I love them all. Feels good to eat something that I know is truly organic and healthful. I'm a fan!

Cherrie L.
All of Guidry Organic Farms products are delicious. To top it off, my kids love them too. From the pecan oil, honey, pecan butter and the trail mix they are staples in my home. I love that I can find the products at my favorite neighborhood stores Little Veron's and Sandra's.

Carrie T.
I absolutely love all products produced by Guidry's Organic Farms! Their pecan oil is the best oil I've ever used in my life, far better than olive oil. I also love their honey it does wonders for my allergies, I put it in my coffee every morning! Their trail mix is also amazing, and I love the chocolate pecan butter! Definitely will be a repeat customer!

Katelyn D.
I am so very excited to get our basket of goodies in the mail just in time for Christmas! The PERFECT gift-- and unique too which I love!! Highly recommend!!!

Hannah S.